Whether you are single or with someone – no one is immune to the madness that is Valentine's day. Whether you get sucked in voluntarily or just by the sheer volume of lovey-dovey stuff shoved into your face – you're bound to feel something on Valentine's Day. I for one don't believe in celebrating 'love' on only one single day – I'd rather celebrate it in small ways everyday. But nonetheless the week leading upto Valentine's day has my thoughts clouded. I inevitably end up watching a few shows/movies on and around Valentine's day depending on my mood. With most of us locked in this time – we're all going to consume content online. Single, committed, heartbroken, happy -I've got you covered. Here are my recommendations –
IF YOU ARE COMMITTED AND HAPPY
Movies –
Eternal Sunshine Of the Spotless Mind – This will forever be my FAVOURITE romantic movie. It is so real and unlike the other cliched stories – it deals with real emotions, break ups, differences between people etc. Clementine and Joel are two very different people that fall in love but their differences get in the way and they break up. After the break up, they both opt to get their memories of the other wiped off and what follows. The underlying message – the people that are meant to be will find a way to each other. *sigh*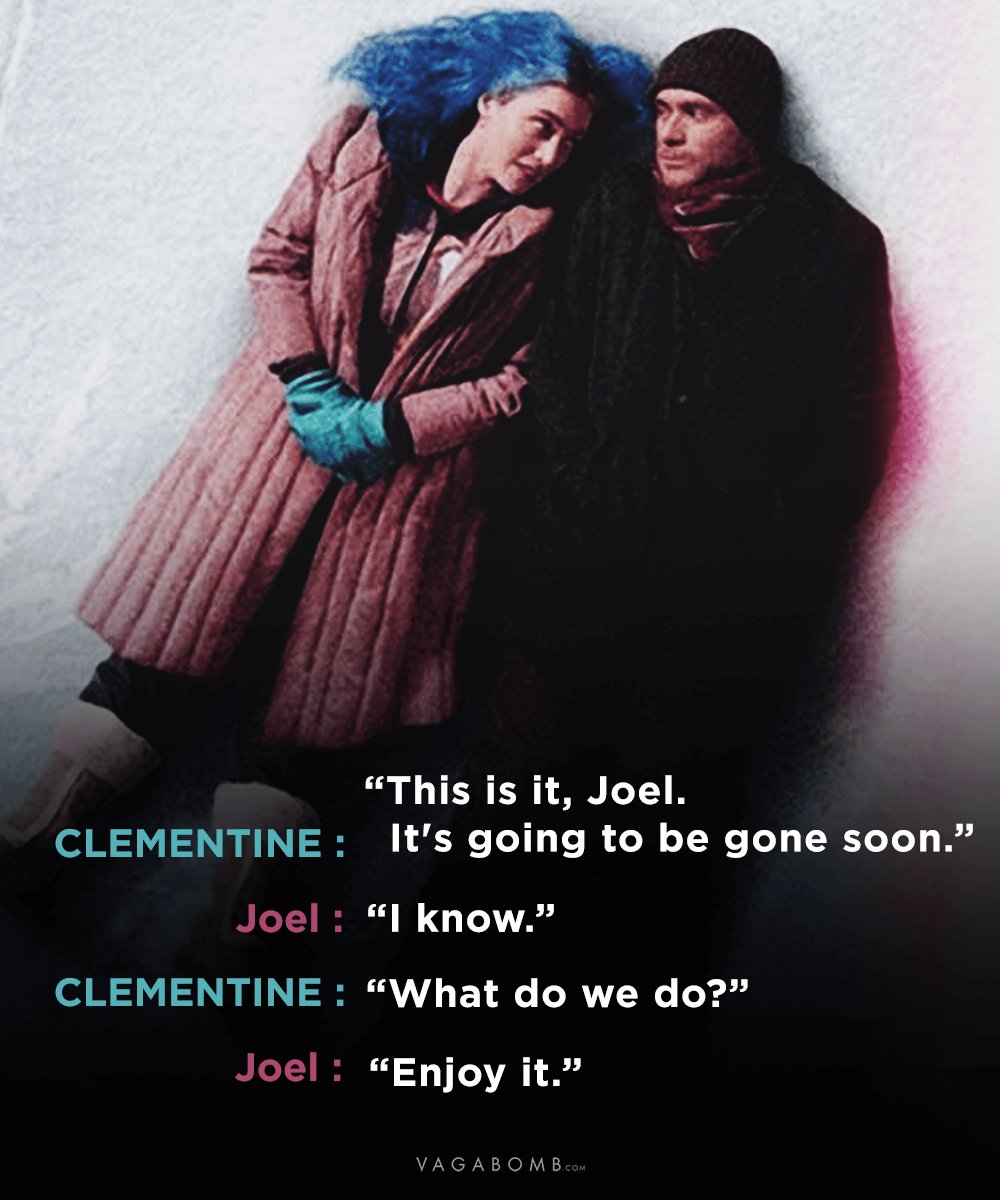 Before Sunrise – This movie is that dream romance we all wish for whenever we travel to a different country. Running into a stranger on a train, exploring a new country with them for a day and slowly falling in love. If you haven't watched it, definitely give this one a watch this Valentines.
Roman Holiday – A fairytale of the modern times, a reporter runs into a princess who is in disguise and helps her through her day in the hope of getting an article out of it but instead finds himself falling for the princess. Adding to the story line is the amazing cast – Gregory Peck in all his gorgeousness and the beautiful Audrey Hepburn. This is for all the classic lovers.
Pretty Woman – A hooker is picked up by a rich gentleman one night and agrees to spend the week with him. Despite their different backgrounds they are drawn to each other – helping each other through the week – only to fall in love.
Love Actually – Love actually is my go-to feel good movie. A bunch of love stories happening in parallel – this movie is bound to leave you feeling happy inside.
The Holiday – Another fairytale like story – two strangers swap houses to get away from their heartbreaks. Amanda heads to Iris's cottage in UK and Iris heads to Amanda's swanky apartment in LA. Little do they know that they're going to end up finding true love thanks to this switch.
The Vow – Paige loses her memory after a terrible accident and is unable to recognize her husband, Leo. The story follows Leo's attempts to help Paige remember him and their love. It is such a beautiful story that is bound to reinforce your faith in love.
Series –
The Office – Pam & Jim's Wedding (Season 6|Eps 5) – Jim and Pam are couple goals and their wedding was nothing short of magical, with a lot of humour but also so much love.
FRIENDS – Monica & Chandler's wedding proposal (Season 6| Eps 25) – I cried so much when Chandler finally gets to propose to Monica. The whole lead up to the proposal was so crazy and had me on the edge of my seat!
IF YOU ARE SINGLE AND HAPPY
Movies –
Mean Girls – This is the movie I watch when I can't figure out what else to watch. It is a classic high school movie filled with a bunch of bitchy girls – definitely a fun watch for Valentine's day on your own or with a group of friends.
Legally Blonde – Elle Woods works hard to get into Harvard to impress her boyfriend who dumped her but in turn discovers herself. Such a perfect movie to watch by yourself!
Queen – Rani, a girl from a conservative family in Delhi, gets dumped by her fiancée a day before her wedding and decides to go on their honeymoon alone. This one is for all of them girls yearning adventure.
Series –
The Marvelous Mrs. Maisel – Her husband's cheating leads to Midge discovering her stand-up comedy skills. Based in NY in the 50s- it shows the coming of age of Mrs.Maisel as she rises to fame and deals with her family and relationships.
Dead to Me – Jen and Judy form an unlikely friendship having recently lost their husbands. But as their friendship deepens they uncover secrets about each other that are dark and bound to jeopardize their friendship. Perfect watch to binge watch through the day. Read my full review here.
IF YOU ARE SINGLE AND HOPEFUL
Movies –
Eat, Pray, Love – The quintessential 'find yourself and love will find you' movie. Elizabeth embarks on a journey across the world after her divorce. Each stop along her journey helps her rediscover herself and ultimately fall in love. Follow her journey from Italy to India all the way to Bali.
He's Just Not That Into You – A rom-com with a lot of parallel stories that are intertwined. The love stories that I love out of all are – Alex – Gigi and Beth-Neil. Both the stories are about going after what you want, in this case love and commitment, and you'll eventually get what your heart desires.
When Harry Met Sally – A classic rom-com about Harry and Sally – who keep meeting and parting every few years – only to eventually fall in love.
Bridget Jones Diary – Another rom-com that is bound to leave you feeling good and hopeful. Bridget is a middle-aged woman working a dead end job and is single. Things look up in her life when she starts dating her irresistible boss, Daniel only to find out that he is cheating on her. She soon develops feeling for her childhood neighbour, Mark, who has now grown into a surly yet charming lawyer. Who will Bridget choose?
Series –
Crash Landing On You – Ah the ever romantic, this series is for you. I recommend this to you to help you realize that there is someone perfect out there for you and they are waiting to 'Crash land on you'. This K-drama will make you fall in love with falling in love. A South Korean heiress crash lands in North Korea after a paragliding accident goes wrong – there she meets Captain Ri who helps her to find her way back home. (PS: Keep tissues handy for this one – I cried A LOT!)
Modern Love (Eps 1): The first episode of this series is the cutest! Based in NY, Maggie navigates through her dating life while seeking approval of her romantic suitors from her forever disapproving doorman, Gunzim. When she accidentally gets pregnant, Gunzim morally supports her through her pregnancy. It is such a heart warming story – it will make you go 'awww'.
FRIENDS – Phoebe & Mike's wedding (Season 10) – Phoebe is the only friend in the group who hasn't had a normal childhood and longs for a normal family. When she and Mike finally get their happy ending – it is a beautiful wedding on the streets during a snow storm – which is perfect since Phoebe isn't the most conventional bride.
IF YOU ARE SINGLE AND MISERABLE/ IF YOU ARE COMMITTED AND MISERABLE
Movies –
500 Days of Summer – The quintessential modern love story. Tom meets Summer and falls in love. He wants to spend the rest of their lives together but Summer doesn't believe in relationships and ends up breaking Tom's heart.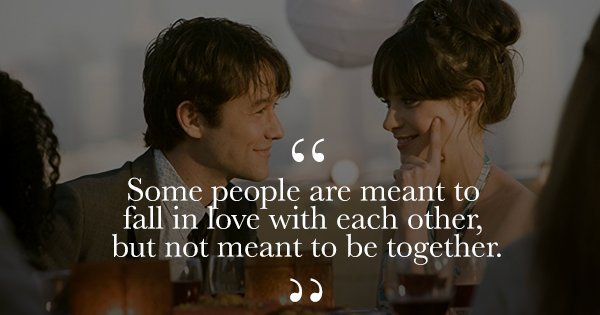 The Way We Were – Katie and Hubbell fall in love despite being total opposites. She is strong headed with a lot of principles whereas he chooses to do what is easiest for him. They get married but are unable to keep up with each other because of their differences and end up parting ways. The last scene of this classic is beautiful.
La La Land – Sebastian and Mia meet while pursuing their Hollywood dreams. He is a upcoming pianist and she's a struggling actor – their passion for their work sparks their attraction. But with growing success and fame – they must choose between their love and their dreams.
Series –
Fleabag – This is such an amazing show! This one's for all the damaged people – follow Fleabag's journey through everything that breaks her and makes her who she is.
How I Met Your Mother – Ted & Robin Break up (Season 2) – Even though we already knew that Robin wasn't going to end up with Ted – their break up still hurt. I've re-watched this episode so many times when I've been sad.
FRIENDS – Ross & Rachel Break up (Season 3| Eps 17) – THIS one really hurt. I didn't see this coming and I was so shook when they broke up. Another break-up episode that I re-watch every time I'm sad.
The Mindy Project – Mindy & Danny break up (Season 4| Eps 13) – While the show was on the whole average, this episode stood out for me in the entire show. Mindy and Danny are very different people who fall in love and are engaged to be married. But they want different things from life – Danny wants a big family and Mindy wants to work. In this episode, Mindy looks to the universe for a sign. (this one is for you if you are looking for a sign too)
Sex And The City – Big's Engagement to Natasha (Season 2| Eps 18) – Big's relationship and quick engagement to Natasha – leaves Carrie feeling heartbroken and confused. This one is for people wanting to get closure from a previous relationship.
This is probably the longest post I've written. I had a lot of other recommendations but I'll save that for another post. So what are your plans for Valentine's Day? Any recommendations for what I can watch (nothing too cheesy)?
Happy Valentine's Day! ❤ Hope every day is filled with love and excitement for you!
Checkout my Valentine's Day Playlist recommendations here.
Checkout my other recent posts –